45+ Best Plus Size Quotes & Captions for Instagram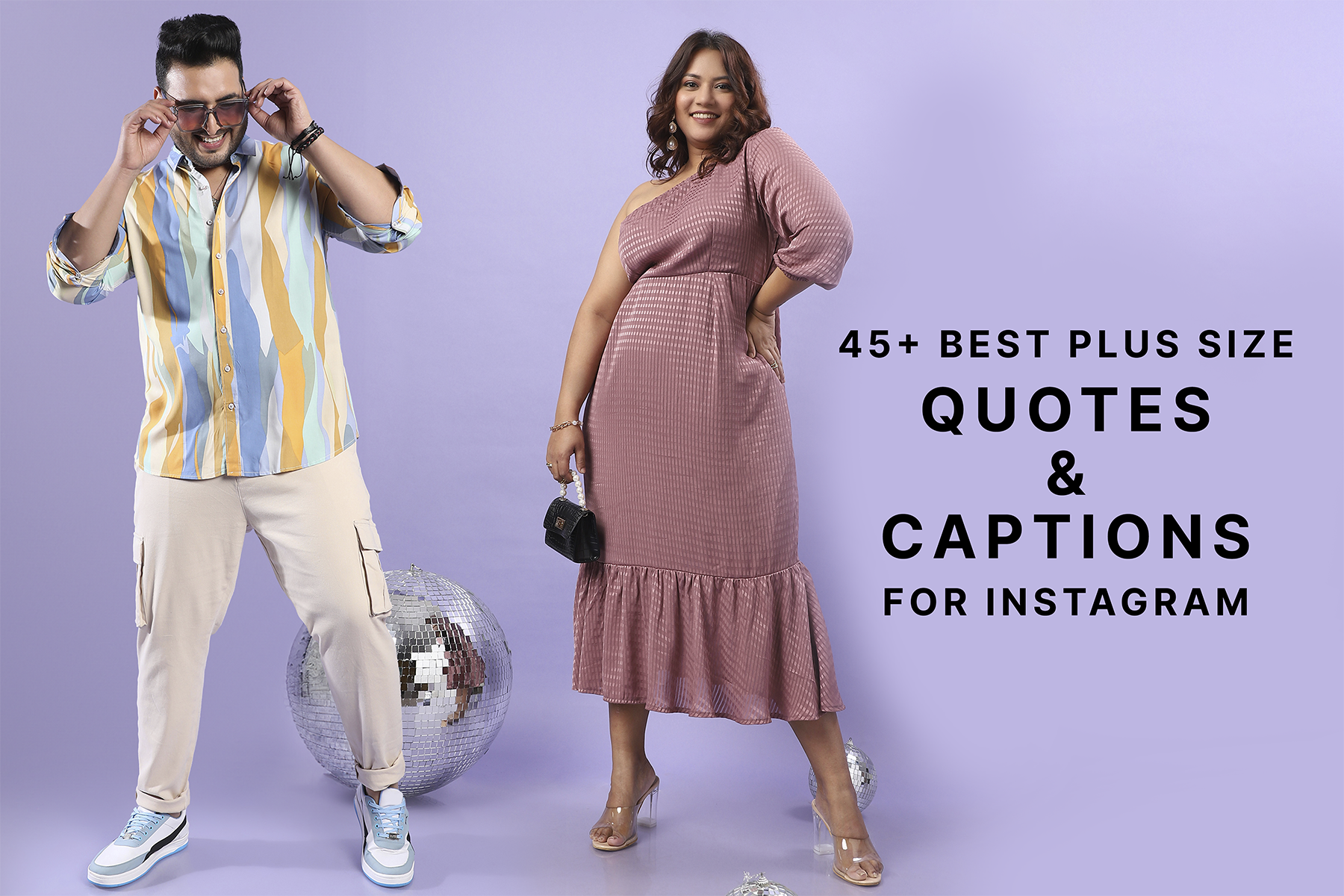 We live in a world that often glorifies unrealistic beauty standards. Instead of encouraging people to embrace their bodies, regardless of size, our society forces us to fit in a mould that pleases the body standard we usually witness on the runway, entertainment industry, in tabloids, and in social media. Standing out among this societal pressure is an act of courage that we all must appreciate. Plus-size individuals, like anyone else, deserve to feel confident, beautiful, and valued. If you are a plus-size folk as well, we see you! To acknowledge the valour of plus-size people, we have dedicated this blog to celebrating the beauty of you all. Check out our collection of inspirational plus-size quotes and captions for Instagram:
Plus Size Quotes for Instagram
What can be the best way to radiate your confidence in front of the world other than Instagram? With every picture, post one among our plus-size beauty quotes to shake your critics to the core. Show some self-love with these plus-size captions for Instagram: 
"Beauty knows no size, and confidence knows no bounds." 

"Don't let the world tell you otherwise - you are a one-of-a-kind and must be treasured".

"Your body is a work of art, and you're the masterpiece." 

"Plus size, plus beauty, plus confidence – it's all in the plus!" 

"The world fears the badass you are. So they ask you to stay hidden."

"Present yourself to the world with confidence and see how things align for you."

"Love your curves; they tell the story of your unique journey." 

 "Confidence is your best accessory – wear it proudly."
Inspirational Plus Size Quotes
The world might try to dim your light, but don't let society do it to yourself. Keep these plus-size beauty quotes saved in your notes and pick one with all your Instagram posts: 
"Real beauty isn't about your dress size; it's about the size of your heart." 

"Embrace your curves – they make you extraordinary, not ordinary." 

"You are the modern reincarnation of the Venus of Willendorf". 

"Your body is your home; treat it with love, respect, and kindness." 

"You are not defined by the number on your clothing tag; you are defined by your character and actions." 

"The world benefits from your insecurity, not confidence - Remember that."

"Confidence is silent; insecurities are loud. Be the confident, beautiful soul you are."
Plus Size Beauty Quotes
These Instagram quotes honour the beauty that radiates from within, regardless of your size:
"Your smile is the best makeup you can wear, and it suits every size." 

"Beauty is not in the face; beauty is a light in the heart." 

"Life is short. Don't worry about what others think of you. What matters is what you think of you."

"Confidence makes you irresistible – no matter your size." 

"You are not just a plus size; you are a plus in everyone's life." 

" You might take a larger seat, but what about taking a larger space in other people's hearts?"

"Your body is a temple; honour and adore it, just as it is." 

"Your clothing size doesn't decide how confident you can be."
Plus Size Clothing Quotes
Fashion is a form of self-expression, and these plus-size confidence quotes remind us that style has no size limits:
"Wear what makes you feel like the best version of yourself – size doesn't matter." 

"Fashion is about dressing according to what excites you, not the size on the label." 

"Nobody remembers what size clothes you are in. Everyone remembers the bright soul you are."

"Style has no size; it's all about attitude and confidence." 

"Your wardrobe should be a reflection of your unique personality." 

"Plus is hot."

"Fashion is the armour to survive the reality of everyday life – embrace it, no matter your size." 

"Love yourself at every size."
Plus Size Confidence Quotes
Confidence is the key to letting your beauty shine. Be confident in your skin and spread the same message to your followers:  
"Confidence is not thinking you're better than others; it's realising you don't have to compare yourself to anyone." 

"You are your kind of beautiful, and no one can take that away from you." 

"Everyone's journey is different. Don't try to fit into others' shoes."

"Self-confidence is the best outfit; rock it and own it!" 

"Wear your confidence as your second skin."

"Confidence comes not from perfection but from being perfectly you." 

"Your confidence stops people from telling you otherwise."

"Insecurity is loud; confidence is quietly radiant. Be the shining star you are."
Plus Size Captions for Instagram
Now, let's explore some fantastic plus-size captions for your Instagram posts to help you express the beauty that lies in confident plus people.
Plus Size Men Caption for Instagram
"Breaking stereotypes and embracing my size – I'm the king of my world!" 

 "I don't fit in boxes; I break them. It's the only way to shine."

"Plus men - plus confidence."

"Size doesn't define my worth; my confidence does.
Plus Size Women Caption for Instagram
"Elegance has no size. It's all about attitude and grace." 

"I am not a plus size; I am a plus in every aspect of life." 

"Plus women - plus confidence."

"Real queens embrace their curves with style and confidence."
Size has always been a dictator of beauty. From the 1900s' craze around full-figured silhouettes to the 1960s' embracement of size zero, during the 1980s' lean, athletic models were strutting on the runway to 2010's ability to accept diversity, we have come a long way. Plus models like Ashley Graham, Iskra Lawrence, Paloma Elsesser, Jeesha Chowdhury, Neha Parulkar, Aashna Bhagwani and many more individuals are changing the fashion game for plus people. In the quest for self-love and empowerment, these inspirational plus-size quotes will be at your side always. Let the world know that beauty knows no boundaries and that confidence is the most attractive quality anyone can possess.
As you post your pictures and stories on Instagram, remember that you're the shining star that everyone in the plus community of Instafab Plus looks forward to. So celebrate yourself, break stereotypes, and inspire others to love themselves, just as they are.