A Gender-Inclusive Plus Size Styling Guide For Parties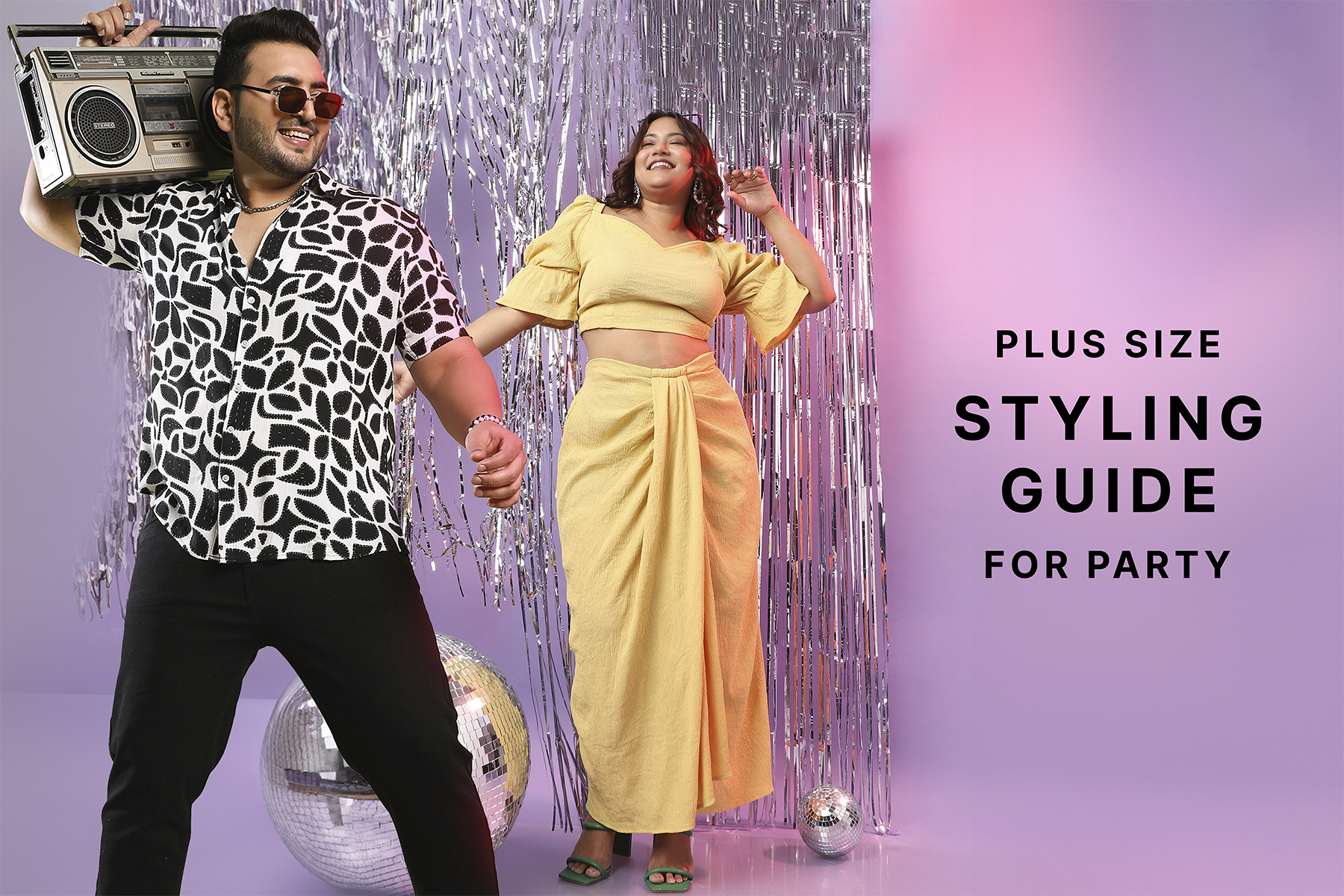 The party season is just around the corner. As December approaches, people start scouring through the internet in hunt of the best plus size party outfit ideas. It's the time of the year when everyone wants to look their best and warm up the atmosphere. Plus-sized individuals are no exception to this. And why should they be an exception? There are plenty of amazing online clothing sites dedicated to people. Dressing confidently for any occasion is essential, and in this blog, we will explore tips and ideas to help you shine at any party. Whether it's a birthday bash, a cocktail soirée, or a formal event, our plus-size styling guide for a party will take you on a fun journey of fashion and clothes to help you make a lasting impression.
Women's Plus Size Styling Guide for Parties
Let's start the styling guide by uncovering plus-size styling tips for parties for our gals:
Understanding Your Body Type
The first step to be the life of a party is choosing the perfect party outfit that instantly gathers everyone's attention. And it's impossible without understanding your body type. The key to looking fabulous is to highlight your best features. Whether you're an apple, pear, hourglass, rectangle, or any other shape, you won't fall short of outfits that will flatter your figure. It's best to choose classics over trends. Take a cloth tape and measure your bust, shoulder, hips, and waist to identify the category you fall into.
Must-Own Party Wear Dresses for Plus-Size Women
As now identifying your body type is off the table, let's talk about must-have plus size dresses and party wear. Every plus woman must invest in a little black dress (LBD), a wrap dress, a V-neck dress, a one-shoulder purple dress or a floral shirt dress. Wrap dresses and A-line silhouettes work wonders for plus-size ladies. Deep, dark jewel tones also look wonderful on women. And these are ideal party-wear shades as well.
Choosing the Right Fabric
Have you ever felt like a dress ticks all the boxes but still misses the oomph factor? Its fabric might be the culprit. Fabric selection is crucial for plus-size women. No fabric stands a chance in front of fabrics like jersey, chiffon, cotton, linen or silk that drape nicely over your curves.
Dressing According to the Event
No one can stop you from appearing out of place if you don't dress for the occasion. A glitter dress for an office event is a big NO! But the same dress will be your saviour in a cocktail party. A silk gown is made for formal events. A jumpsuit is a wardrobe essential to rock the Christmas party with style. A ruffled dress is for a ball or masquerade party, whereas you cannot go wrong with a skirt-top combo at a birthday party.
Accessorising Correctly
Your plus-size styling guide for the party remains incomplete without mentioning accessories. Just putting on a dress is not enough. Spice it up with your creativity a.k.a. add-ons. A statement necklace like a choker or a delicate necklace-earrings set, a glitzy clutch, or a kitten heel can transform a rather bland outfit into a show-stopper. As a rule of thumb, it's better to refrain from overdoing it as it may mess up the balance.
Men's Plus Size Styling Guide for Parties
It's time to show some love to our plus men as well:
Understanding Your Body Type
Men, just like women, cannot stand out from the crowd without understanding their body type. Choosing outfits that flatter their physique is an instant confidence boost. Whether you're a rectangle, oval, triangle, or inverted triangle, determine your shape before you select men's partywear. Same as women, men should also stick to classic pieces over trendy clothes.
Best Outfits for Plus-Size Men
If as a plus man, you feel you have no style guide to follow, then you are still not aware of your fashion potential. Everyone, irrespective of gender, age or body shape and size, must follow a style guide. Plus-size men look no less than Greek gods in tailored clothes. Whether you opt for a shirt, t-shirt or co-ord set, choose pieces that create a sharp, polished look. Dark colours look amazing on plus men.  Stick to this guide to boost self-confidence and feel great at parties.
Choosing the Right Fabric
Fabric plays a crucial role in comfort and style for plus-size men. Opt for materials that provide a structured yet comfortable fit, like cotton blends, denim or wool. A well-fitted outfit in the right fabric can make a world of difference in your overall party experience.
Dressing According to the Event
Just like for women, the type of party decides men's outfit choices as well. You may feel lazy and choose a random party wear but we can guarantee that you won't feel great in it. You must have a few clothing pieces designated for parties all over the year. A casual jacket over a T-shirt and jeans can be your birthday party wear. Cocktail parties call for a dressier look. A stylish tie with a blazer, shirt and trousers can be the perfect mix of evening wear. On the other hand, a suit or a tuxedo calls for ladies' attention in formal events.
Accessorise
Men shouldn't underestimate the power of accessories. A leather watch, cufflinks, a hat or a tan belt upgrade your party like no other. Men shouldn't also go overboard with accessories just like women. It's best to stick to minimal options for the best influence on the crowd.
Styling and fashion is a field to show off your creativity and express yourself shamelessly. There are no strict rules in this domain, only guidelines to help you find your unique style. Whether you're a plus-size woman or a plus-size man, experimenting with plus-size party outfit ideas can be an exciting journey of self-discovery. So, follow these plus-size styling tips for parties and make them your own. When the time comes to choose plus-size dresses and party wear for women and men, Instafab Plus can be a mine of gems. Browse through the listed pieces to find styles that suit you best and wear them with pride. Remember, it's not about fitting in; it's about standing out and feeling every moment of the party.