40 Diwali Captions & Quotes For Instagram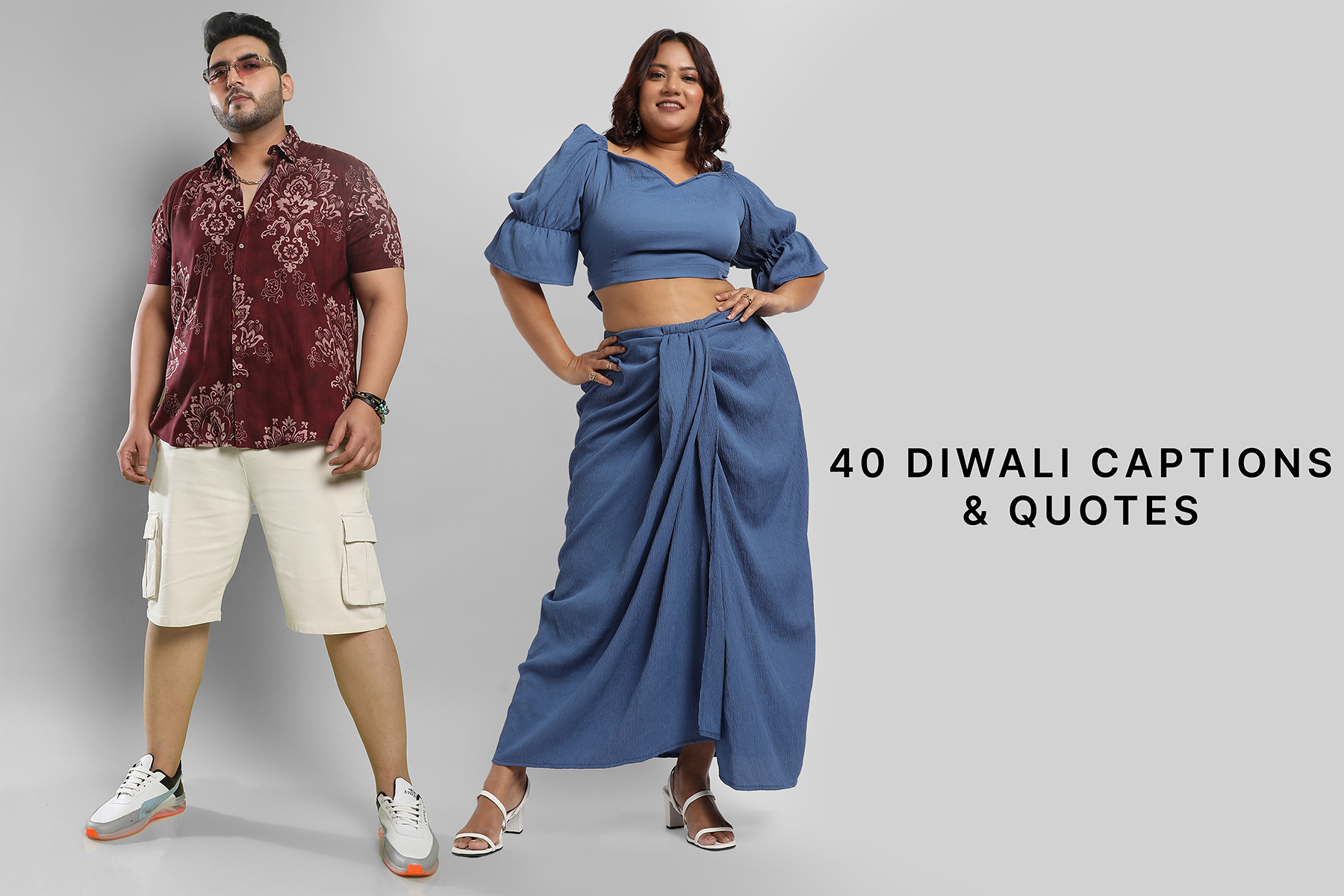 As the warmth and beauty of Diwali season inches closer, it's time to nurture and dissipate the festive glow all around. We are sure that by now, you have your Diwali scene all straightened and sorted. With so much going on, we think it's a great idea to spread positivity all around through some thoughtful Diwali quotes for Instagram. 
Here are some of our best Diwali celebration captions that you can use for posting on social media or as greetings to your friends and family. 
Unique Instagram Diwali Captions for Family & Friends
Check out some of these amazing captions for Diwali post and take a pick as per your liking:
"The moon shines brighter as our homes gleam with light, I love the sight of love and laughter on Diwali nights." #DiwaliCelebration"

 "Celebrating Diwali vibes with my favourite tribe." #Diwali2023 #love #togetherness

"May our hearts grow fonder and lives grow brighter every Diwali."#FestiveConnections #Diwali2023

"There is no greater joy than the happiness of nurturing traditions and observing rituals that have shaped our culture. In love with this spirit of belongingness". Happy Diwali.

"Friends who slay together, sparkle together." Happy Diwali everyone! 

"The joy of togetherness is electrifying enough to light up our hearts. It's all about making memories together."

"This Diwali, let us exchange sweets, smiles and stories as we come together to cherish the festival of lights." 

"Let us create lasting memories under the warm glow of Diwali lights." 

"It is finally that time of the year when love and togetherness lights up our heart and our world."

"Let the Diwali lights brighten up our relationships and warm our hearts."

"Let the sound of firecrackers drive away your worries, and the Diwali Diyas make way for a brighter future."

"The true spirit of Diwali is to give and forgive." #festivevibe #Diwalitimes

"Diwali time is a testimony to the fact that, no matter how difficult the times get, there will always be a sliver of light and hope." #Indianculture #Diwali

"Diwali isn't just about lighting lamps; it's about kindling the lamp of knowledge within ourselves."

"May the blessings of Lord Ganesha and Goddess Lakshmi bring you wealth, wisdom, and prosperity. Happy Diwali!"

"Celebrate Diwali with gratitude, for the light of this festival brightens our lives in so many ways."

"Let's make this Diwali eco-friendly and spread love, not pollution. Have a green and sparkling Diwali!"

"This Diwali, may your home be filled with love and happiness."

"Diwali is here to take away all your pain and worries. Shine on sweetheart!"

"May your life be as colourful and bright as your Rangoli." 
Diwali Wishes & Greetings For Everyone
Take a look at these Deepavali captions that are bound to bring a smile to your face:
"May this Diwali bless you with opulence, abundance and prosperity.

"As happiness comes at your steps, I wish you a bright and fabulous future." 

"As you and your loved ones get together to celebrate the festival of lights, I wish you perpetuity of happiness and glad tidings.Happy Diwali!"

"May this Diwali fill your life with new hopes and your future with new dreams. With lots of love, wishing you and yours a very Happy Diwali."

"This day celebrates victory over defeat, light over darkness and awareness over ignorance. May this auspicious occasion light up your life with happiness, joy and peace. Happy Diwali!"

"Wishing you and your family the brightest smiles, positivity and an abundance of happiness.




Have a wonderful Diwali and a great New Year!"

"May the pious chants of Lakshmi Aarti beckon opulence and decadence in your home. Wishing you and your loved ones a very happy Diwali."

"Hope this Diwali is the start of a year where all your dreams come true." 

"May this Diwali be the start of the best year of your life."

"May this year's Diwali leave both your heart and stomach feeling full."

Twinkling lights, glowing diyas and warm hearts. Wishing the best of times to you are family. 

"In the glow of Diwali, feel grateful for the beauty of life."

"Let the lights of Diwali reveal the beauty within and around you."

"Diwali is the reflection of the beauty of traditions and togetherness."

 "The lights of Diwali become even brighter when we share it with our loved ones."

"Wishing you a Diwali that is full of beautiful moments and cherished memories."

"This Diwali, let's celebrate and take pride in the beauty of diversity and unity."

"Diwali is all about bringing people together in love and harmony."

"Embrace the warmth and love of the Diwali season with open arms and heart."

 "As the night sky lights up, let your soul revel in its beauty and imbibe the glory of the Diwali season."
You can use these captions for uploading a Diwali post, or for wishing your near and dear ones. Believe us, these heartfelt messages will tug at chords of the receiver's heart and make their celebrations even more special.
There is no denying the power and influence of social media. Where people use this medium for information dissipation, it can also be a great way to spread positivity and happy cheer all around especially during the festive season. The above-mentioned Diwali short captions, will highlight your social media feed and appeal to your followers. So go ahead, click a sun-kissed picture in your favourite outfit and upload it with any of the fabulous captions for Diwali photos. While we are talking about outfits, we suggest you head to Instafab Plus and explore some amazing options in

 
plus size fashion clothing
 

for both men and women.