7 Styling Tips For Plus Size Men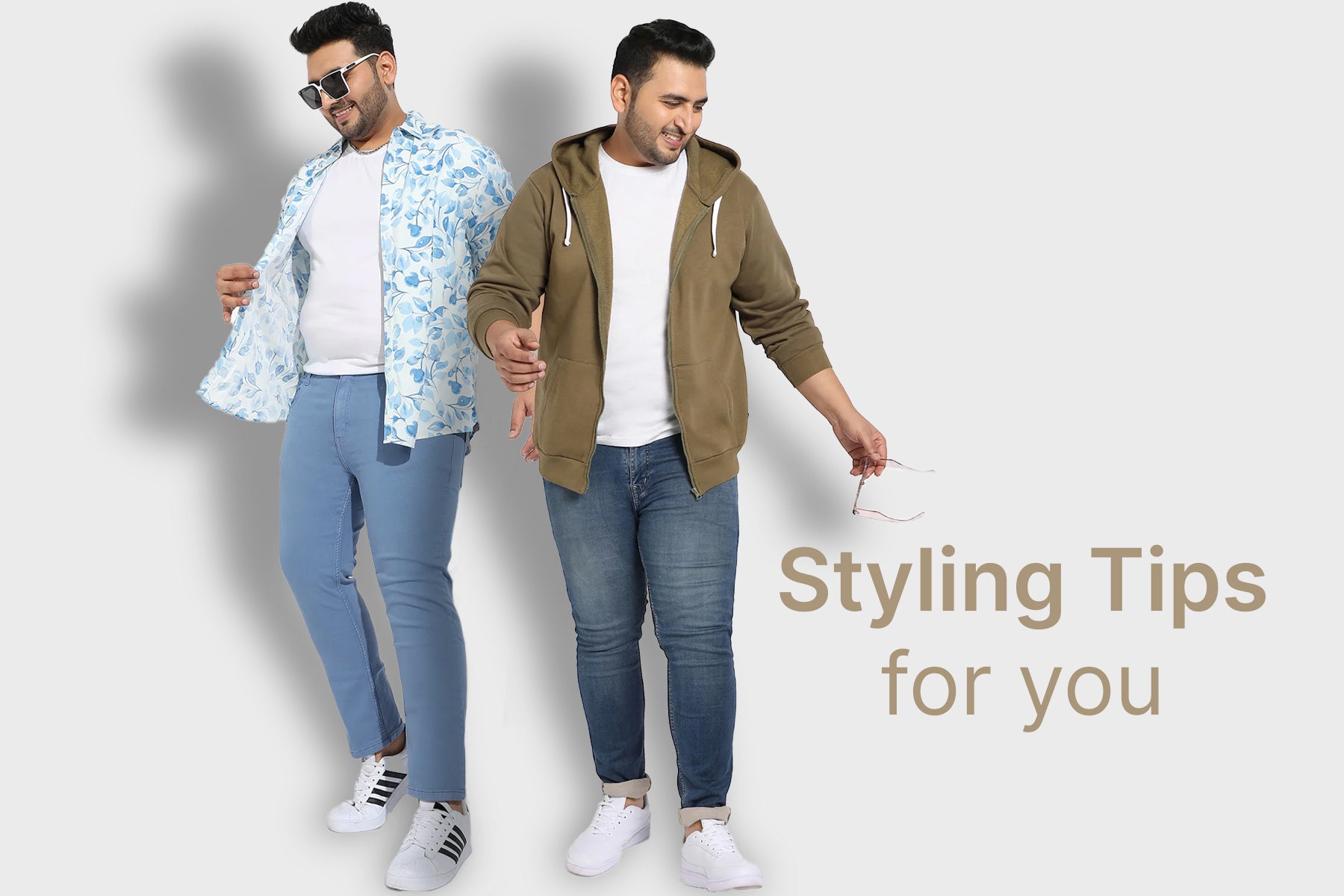 A well-fitted and stylish clothing not only makes you look great but it also helps increase your confidence level many folds. However, with limited options available for plus-size men, it might seem a challenging task to slay at every occasion and gain a lot of complements. We know everyone loves to look their best, but sometimes it's not just the clothing but the lack of styling tips too can also prevent you from looking your best. 
If you want to appear and feel appealing, it doesn't matter if you are thin or obese and bulky; you only need to give your dressing style a little thought.
Well, if you are looking for styling tips for curvy men, then this blog is for you. We have put together 7 smart and distinctive styling tips for plus size men to add a playful, lively, and incredibly trendy twist to their wardrobes! Let's check them out!
7 Styling Tips For Plus Size Men
Here are a few fantastic styling tips for chubby guys to rule every occasion:
1. Balance is Vital
Use your wardrobe to balance your upper and lower body. What does this imply? Avoid wearing tight, narrow pants if the upper portion of your body is heavier. Why? This gives the appearance of a "popsicle" with two thin sticks at the bottom (the legs) and significantly more volume at the top (the upper body). Choose regular fit denim jeans with a tapered leg or a slim fit instead of extra-tight ones. This is one of the most effective styling tips for chubby guys to look vivid anytime!
2. Watch Out for Fabrics
Choose more structured fabrics like the ones from Instafab Plus when dressing for a larger frame. We provide an excellent tailored and flattering fit that will gradually stretch to accommodate every inch of your body. Look for a plus size men's light grey double-breasted jacket with hoodie and deliver the finest styling tips for plus size men to the people.
3. How to Tuck a Shirt
Your shirts are perfectly OK to tuck in. This is one of the modern styling tips for chubby guys to make them look extraordinary. Ensure your pants are worn below your tummy for a more attractive appearance while tucking. If not, your denim jeans will cut you directly in the center of your stomach, causing additional dents and folds. 
4. Go for Accessories
The little details are what elevate an outfit from mediocre to extraordinary. The same logic that applies to tailoring, where a slight difference may make all the difference, also holds for accessories! Any outfit is improved with a well-placed handkerchief, aesthetic watch, or statement sock. Accessories may greatly assist when expressing your distinctiveness in styling tips for curvy men.
Also read: In Focus: The Coolest Shirts for Men this Summer
5. Your Body Shouldn't be Huddled Up in Clothes
Too tight clothing won't give you the modern appearance you want. Instead, form-fitting clothing hugs and highlights every curve, which is only sometimes a good look. Choose clothes that fit your physique well instead. However, you still want things to be left up to the viewer. Therefore, you want your attire to give you a slight contour. For instance, while a striped T-shirt should emphasize your shoulders and arms, it should fall straight over your tummy rather than defining each curve.
6. Shop for Extended Sizes from Popular Brands
You can focus on the right brands when you buy, thanks to stylish plus size brands like Instafab Plus that provide additional alternatives in expanded sizes. We offer a fantastic range of plus size men's clothing. Don't let the brands make you upset, disappointed, or depressed when you might be thrilled about stocking your wardrobe with clothing that helps you look and feel your best. This is one of the most essential styling tips for chubby guys looking for the best dress.
7. Layers are Fantastic
It's possible that layering is the last thing on your mind when you shop, but we're here to remind you that this is one of the most remarkable styling tips for plus size men in the winter season that will make you look from eh to excellent! Jackets bring everything together and create vertical panels for a more streamlined appearance. Start layering since jackets and hoodies always give a person a more fashionable appearance in the winter season!
Also read: Incredible Fashion Tips for Curvy Men and Women
To sum up, dressing appropriately as a plus size man is all about selecting clothes that fit well, flatter your body type, and give you confidence and comfort. You may build a wardrobe that flatters you and gives you the finest possible appearance by using the styling tips for curvy men. Instafab Plus will provide many alternatives for creating a men's wardrobe full of versatile separates and stylish accessories with our styling tips for chubby guys. You may always look your best in cutting-edge clothing, and wearing smaller sizes is no longer necessary for a fashionable style. Happy styling!