5 Plus Size Winter Outfit Ideas for Men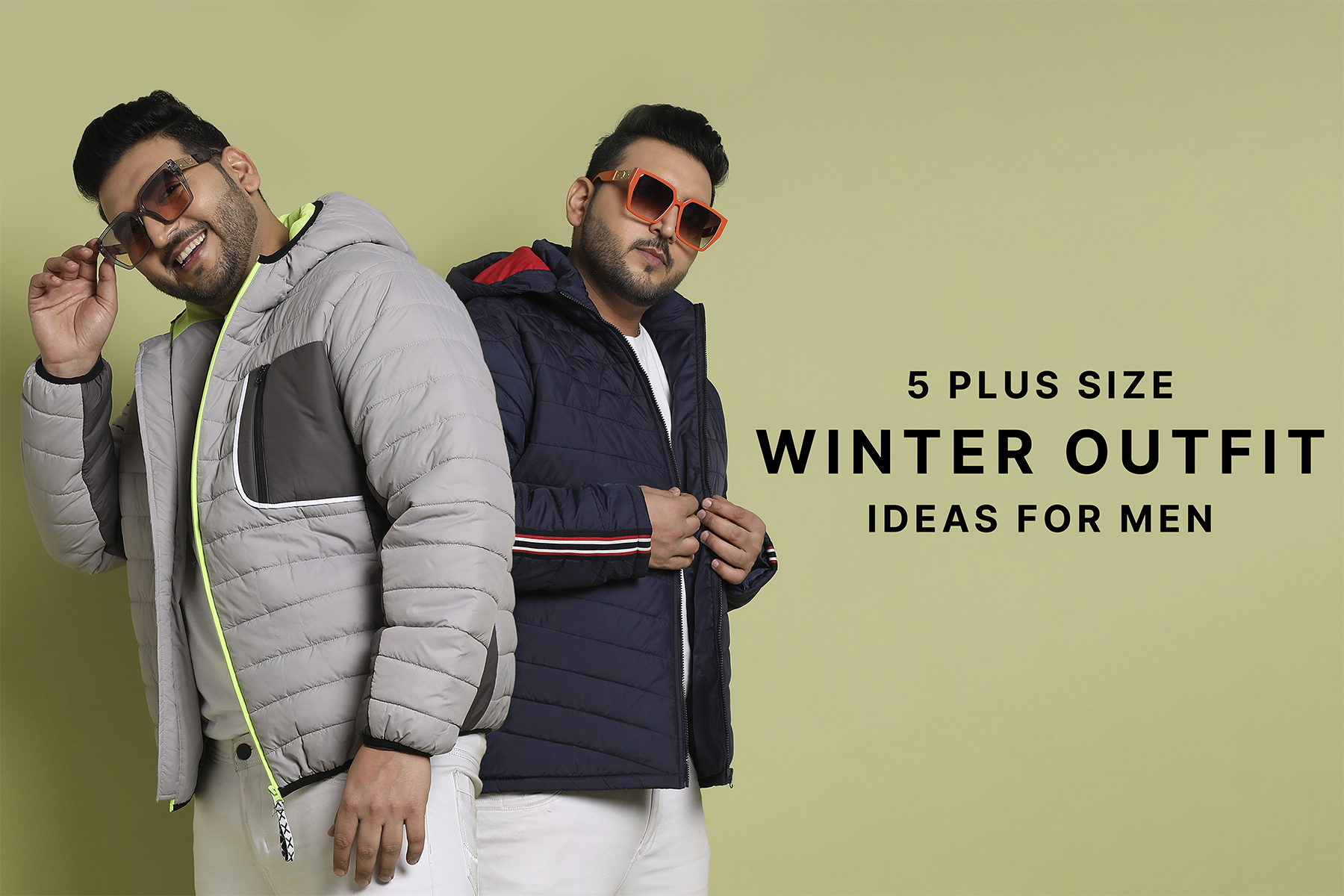 As the winter is right around the corner, it's time to get all dressed up in chic plus-size winter outfits for men. But the one common mistake men make time and again is hiding behind multiple bulky layers like you are in a country where penguins reside. Why hide behind layers of clothes when you can rock the colder months in style? As the temperatures drop, raise the temperature around you by welcoming these 5 men's plus size winter outfit ideas in your wardrobe. It's time to elevate your fashion game while also being cosy in plus-size clothes.
Let's Find Out The Latest Winter Outfit Ideas For Plus-Size
Men:
1. The Classic Layered Look
Sounds contradictory? No, we are not saying layering is bad. Winter is all about layering. But how you layer the winter clothes makes all the difference in your winter dress-up ideas. A well-fitted olive green textured knit pullover sweater with a light grey puffer jacket is enough to keep you warm and create a visually appealing silhouette.
2. The Comfy Sweatshirt and Cargo
Another match made in heaven that no man can ever go wrong with. An olive green ambition hoodie with beige cargo trousers is one of the perfect winter outfit ideas for plus-size men.
3. The Turtleneck Sweater with Fitted Jeans
As you slowly transition into colder months, a beige herringbone knitted pullover sweater with regular-fit denim jeans takes your winter fashion game up a notch. This pair keeps you warm without compromising the style game. Complete the outfit with a pair of white sneakers.
4. Winter Athleisure
Purchasing separate topwear and bottom wear to mix and match can seem too overwhelming at times. When you fall short of ideas, go for the safest plus size winter style ideas for men: co-ord sets. A solid icy blue co-ords set or a stylish casual co-ords set in red instantly makes you the 'talk of the town'. This casual ensemble is perfect for a day out in the winter cold. For an extra touch of style, throw on a lavender self-design regimental striped t-shirt under the jacket.
5. Well-fitted suit with an Overcoat
When you need safe winter clothes ideas for a special occasion during winter, nothing can beat a fashion-forward man dressed up in a well-fitted suit, a classy overcoat and a pair of trousers or casual denim jeans.
6. Bonus Tip to Uplift Your Winter Look
Don't leave your plus-size winter outfit ideas for men incomplete. Accessorise them as much as you want. All dressed up in a sweater and jeans? Add a cap or beanie to keep yourself warmer and rock the look with confidence. Wrap a scarf around your neck for more warmth and style. Boots with winter-style ideas are a must-have. 
With these plus-size winter fashion ideas for men in your arsenal, you can now confidently step out in the cold, and look fabulous. Don't be afraid to mix and match different outfits, experiment with layering, and choose colours that complement your complexion. Plus-size winter fashion has never been more exciting, so go ahead and make the most of it!